Gon Freecs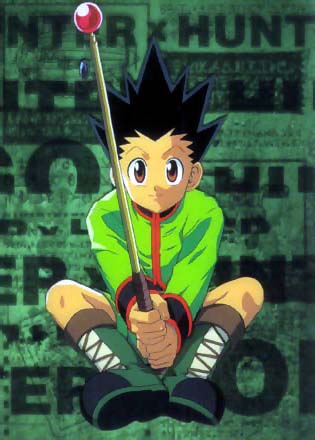 Name
: Gon Freecs
A.k.a
: Gan, Freaks, Freacs, Freeks
DOB
: May 5
Age
: 12
Location of birth
: Whale Island
Weight
: 49kg
Height
: 154 cm
Nen Type
: Reinforcement
Blood Type
: O
Personality
: Gon has a simple and innocent mind. He trusts people upon first meeting them and doesn't harbor suspicions against a person. For instance, when he first met Meleoreon, most people would've suspected Mel instead of trusting him. Gon, on the other hand, believed in Mel so much that even Mel was shocked at his level of trust.
Because of his high level of trust, Gon also makes friends easily with anyone he meets.
He also is very stubborn and once he's determined to do something, he will continue to do it until he succeeds. Killua once complained that he wasn't going to compete with Gon on who could jump higher because he thought Gon would just keep on trying until he won.
Gon is quite the hard worker as well. In Greed Island, Killua complained incessantly about Biske's harsh training, but Gon continued going at it and told Killua that through this they would grow stronger. Every time he said this, his face was glowing with happiness.
Gon's nen ability
:
Gon's hatsu is
Jajanken
, which, in Japanese, means 'rock, paper, scissors'. Jajanken is a three part attack that includes:
o
Rock
(Guu) - Gon uses this to attack the outside of someone's body with his fist. It's a close range attack.
o
Paper
(Paa) - Gon uses this to attack someone's inner organs; the attack is also done with his fist. It's a long distance attack.
o
Scissors
(Shi) - Gon uses this to attack a specific body part; this attack is done with two fingers. It's a middle distance attack.
Gon originally did not intend for his ability to be called
Jajanken
; in his mind, he had named it
Janken
. When Knuckles asked him what his ability was called, however, he stuttered and said "Ja-janken" instead of "Janken", leading Knuckles to believe that the ability was called Jajanken.
Back to Character Profiles.