Hunter x Hunter Puzzles
Puzzle #1
Ok..for your amusement, some interesting puzzles I came across. Actually, the idea of putting them up on this site came from that part in the Ryodan arc when Nobugunda was trying to chase Gon and Killua who had escaped through holes in the wall.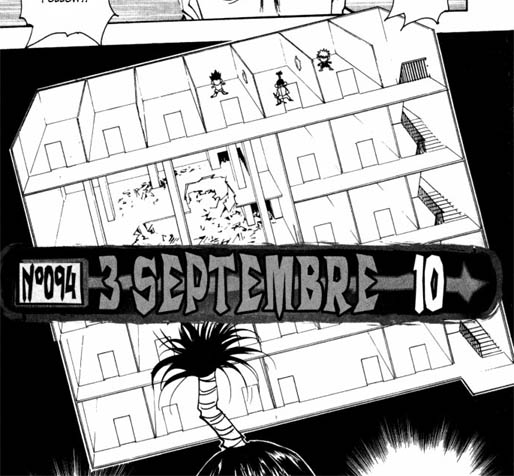 So here's the problem: If Gon and Killua could
--jump through walls and land from a floor to a staircase nearest that floor
--jump down from one floor to the floor directly beneath it(ex:from the fourth to the third floor by making a hole in the ground)
--can not jump from the highest floor to the ground(ex: jumping from the fifth floor and freefalling down to the ground; this is impractical)
So where should Nobugunda go so that he can block both Gon and Killua from escaping?
Click here for the
answer
Here's a second puzzle: Gon and Killua are playing a game. They have pennies are trying to put them on a round table. The winner is last person who is still able to put pennies on the table.
Pennies can only be put on the table if one face of the penny touches the table; in other words, pennies can't be stacked. If there is no more room on the round table to put pennies without stacking, that person loses.
What's the strategy so that either Gon or Killua will definetly win?source:math circle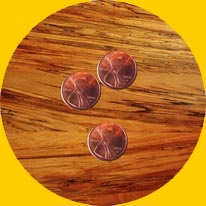 Click here for the
answer
.
Puzzle #3
Gon and Killua are stuck on an island with an eight-quart jug of orange juice. They are very thirsty and want to share the orange juice exactly evenly. They happended to have brought along two empty jars--one that is five quarts, and the other three quarts. By using the other two jugs, how do they measure exactly four jugs of water?
Click here for the
answer
.
source:http://www.cut-the-knot.org/ctk/Water.shtml
Puzzle #4
This one's actually a riddle that I made up:
When I'm in fury,
I wave my arms around like an anenome.
Normal anenome food is hardly for me,
Sauteed shrimp and wine are quite in store for me.
Hint: This riddle describes a character in Hunter x Hunter...
Click here for the
answer
.